Match 28, Guyana, September 17, 2023, 04:30 AM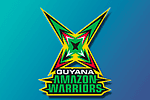 Guyana Amazon Warriors beat Trinbago Knight Riders by 6 wickets
Probable Playing XI
Guyana Amazon Warriors: Shimron Hetmyer, Saim Ayub, Dwaine Pretorius, Odean Smith, Keemo Paul, Romario Shepherd, Azam Khan†, Shai Hope, Imran Tahir(c), Gudakesh Motie, Junior Sinclair.

Trinbago Knight Riders: Martin Guptill, Keacy Carty, Mark Deyal, Kieron Pollard(c), Samit Patel, Terrance Hinds, Chadwick Walton†, Akeal Hosein, Jayden Seales, Kadeem Alleyne, Jaden Carmichael.
PLAYER PERFORMANCE
Batsmen
Shimron Hetmyer
BAT SR: 136.6 | BAT AVG: 31.1
Very Good
Saim Ayub
BAT SR: 142.9 | BAT AVG: 29
Very Good
Azam Khan
BAT SR: 124.7 | BAT AVG: 12.9
Bad
Shai Hope
BAT SR: 135.7 | BAT AVG: 45.1
Neutral
Bowlers
Imran Tahir
BOWL SR: 29.4 | BOWL AVG: 34.8
Bad
Gudakesh Motie
BOWL SR: 19.2 | BOWL AVG: 27.4
Neutral
Junior Sinclair
BOWL SR: 17.2 | BOWL AVG: 19.2
Neutral
Batsmen
Martin Guptill
BAT SR: 116.3 | BAT AVG: 31.2
Good
Mark Deyal
BAT SR: 126.7 | BAT AVG: 19
Neutral
Keacy Carty
BAT SR: 0 | BAT AVG: 0
None
Bowlers
Akeal Hosein
BOWL SR: 29.1 | BOWL AVG: 33
Bad
Jayden Seales
BOWL SR: 0 | BOWL AVG: 0
None
Terrance Hinds
BOWL SR: 0 | BOWL AVG: 0
None
Jaden Carmichael
BOWL SR: 0 | BOWL AVG: 0
None
Kadeem Alleyne
BOWL SR: 0 | BOWL AVG: 0
None
Man of the Match
Imran Tahir
Right then, that is it from match no. 28 as Guyana Amazon Warriors seals the top spot as they defeat Trinbago Knight Riders by 6 wickets. The focus now shifts to the all-important probable play-off position decider match between Jamaica Tallawahs and Saint Lucia Kings at 7.30 pm IST (2 pm GMT) later in the evening, you can join us early for all the build-up to that game. Cheers!
Man of the Match and Guyana Amazon Warriors skipper Imran Tahir says that it was difficult to grip the ball and that he was looking to bowl more dots and think about wickets. Adds that it came out nicely and he is pleased that his side got the job done. Shares that he had to take the responsibility to bowl in the death overs and didn't want the younger guys to feel the pressure. Closes by saying that he is happy with the win and wants to carry on going forward.
Kieron Pollard says that they got what they wanted as that knock from Keacy Carty was something that would help the side going ahead in terms of confidence in the lad. Mentions that they were short by 20-30 runs as they lost way too many wickets at the depth. Adds that he doesn't have an update on Martin Guptill as he pulled up after the first run so they will have to analyse Martin. Adds that Akeal Hosein and Terrance Hinds bowled well in pressure situations and for them all in all it was a good game of cricket.
Stay tuned for the presentation...
Earlier in the game, after being asked to bat first Trinbago Knight Riders managed to score 176 thanks to a brilliant knock of 83 by Keacy Carty. They could have managed a lot more but a late flurry of wickets in the last couple of overs held things back for the Trinbago Knight Riders. Mark Deyal and Chadwick Walton supported the youngster well and they played good cameos as well. Imran Tahir was unplayable for the Trinbago Knight Riders batters as he managed to pick up 3 while Dwaine Pretorius, Romario Shepherd, and Keemo Paul took a wicket each. The injury of Keemo Paul is a worrying thing for the Warriors.
The bowling was a bit waivered from the Trinbago Knight Riders as they leaked rus both sides of the ground. Terrance Hinds was the pick of the bowlers as he gave away runs at an economy under 7. Apart from Samit Patel who was expensive and wicketless too, every other bowler picked up a wicket. A good outing for the Guyana Amazon Warriors as they win this one and get back to winning ways by defeating the Trinbago Knight Riders by 6 wickets. The only negative for them would be the injury sustained by Keemo Paul.
Chasing a challenging total of 177 the Warriors came out all guns blazing as the dynamic duo of Saim Ayub and Odean Smith smashed 56 in the first 6 overs. The first wicket partnership soon came to an end on 56 as Saim Ayub was dismissed on 37. It was then the Odean Smith show he was dropped 3 times and he just did not look back and swung for everything and connected with the majority of those. Shai Hope played the perfect anchor to Odean Smith and once he departed it was all about Shai Hope as he switched gears in a flash. Shai Hope was also the top scorer for the Warriors as he smashed 54 runs. Odean Smith and Saim Ayub played good cameos of 44 and 37 respectively.
Guyana Amazon Warriors have defeated the Trinbago Knight Riders by 6 wickets and prior to Qualifier 1, they have completed the double over Trinbago Knight Riders this season.
18.2
1
That's it! Guyana Amazon Warriors win by 7 wickets with 10 balls to spare. A thoroughly professional performance by the Warriors. A low full toss tailing down the leg. Dwaine Pretorius turns it to short fine leg and gets the job done in style!
18.1
1
Slower and fuller on the leg peg. Hope heaves it to deep square leg for a single.
18.1
2nb
NO BALL! Kadeem Alleyne begins with a full toss over the waist height. Dwaine Pretorius tucks into the leg side for a run.
In over# 18
1
1
1
0
2
1
1wd
Chadwick Walton 7/0(1)
17.6
1
Short and wide outside off. Dwaine Pretorius attempts the cut but gets an under edge past the keeper for a single.
17.5
1
Leg break, outside off. Hope pushes it to sweeper cover for a single.
17.4
1
Length, on middle and leg. Pretorius heaves it to long-on for one.
17.3
.
Tossed up full and down the leg. Pretorius misses the sweep and it goes off the pad toward short fine leg.
17.2
2
Flat and down the leg. Dwaine Pretorius sweeps and gets a top edge to long-leg for a couple.
17.1
1
Drags it down and outside off. Hope flat-bats it to long-off for one.